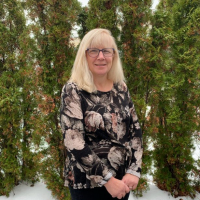 Kimberley Paterson
Children's
Profession

Author, Human Resources
Kimberley Paterson is a first-time author of a children's illustrated book entitled Frankie the Ferret which has been named a 2020 Canada Book Award Winner. Frankie has also received the Literary Titan Gold Book Award! Kimberley was born in Uxbridge, Ontario, a small rural farming town north of Toronto. Kimberley is the mother of two children and the grandmother of four amazing little people who were the inspiration for this book. She currently lives in the countryside in Claremont, Ontario with her spouse Doug, a chocolate lab named Molly and two cats, Kitty and Tobey.
Video
Frankie the Ferret Author Reading
To read without reflecting is like eating without digesting.
Edmund Burke